Company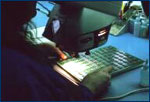 Tech-Edge Manufacturing is an Electronics Contract Manufacturer located in the Northwest town of Sweet Home, Oregon. Services include circuit board assembly using either Surface Mount or Through Hole technologies, prototypes, cable assemblies and hand builds. We offer small to large runs with discounts for multiple runs. We also have an engineer on staff to assist or completely design your circuitry.
Company Background and Market Position
Tech-Edge began operations back in 1997 by designing and building their own products.
The company started in Utah and moved to Oregon when the owners decided to open their plant up to contract manufacturing.
Between the owners, there are 23+ years experience in the business of assembly.
Owners
Mark and Tonya Adams